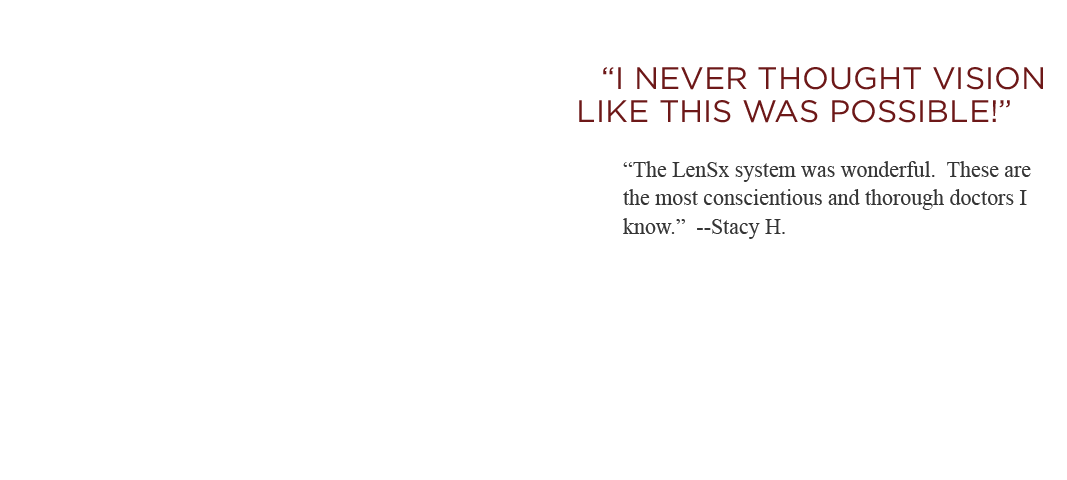 YOUR EYESIGHT IS PRECIOUS
Let us help you take care of your eyes
About St. George Eye Center
We are the premier eye center of Southern Utah, Southeast Nevada, and Northern Arizona. This is the place where the patient comes first and quality eye care is unrivaled. We care for all eye needs and our unsurpassed expertise will give you the best treatment outcomes possible. Come meet us and find out why our patients say that will never go any other place.
What People Are Saying About Us
LenSx System
"I never thought vision like this was possible! The LenSx system was wonderful. These are the most conscientious and thorough doctors I know."
Thank You!
"Thank you, Dr. Hendrix! I've had poor vision my whole life, but not now. I can't believe I had to wait until age 65 to see this well."
I recommend LACS to everyone!
"I recommend LACS to everyone. I don't even know what to do without my glasses anymore."
I Love My New 20/20 vision!
"I was nervous to get LASIK, but Dr. Hendrix made me very comfortable…I love my new 20/20 vision."
We are Lucky!
"We are lucky to have a glaucoma doctor Dr. Slade of this caliber in St. George."
Really Know My Needs!
"Dr. Hunt understands me. He spent the time I needed to really know my needs. I have never had such a thorough eye exam."
Most Down-To-Earth People!
"Dr. Slade is one of the most down-to-earth people I know. He's perfect for Southern Utah."
Never In My Life Have I Seen So Well!
In regards to the Laser-assisted cataract surgery (LACS): "My vision improved dramatically after having LACS. Never in my life have I seen so well. It was even kind of fun to have the laser done."
20/15 Vision!
"I have 20/15 vision! What more can I say?"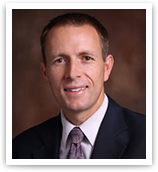 Ophthalmologist
Cataract & LASIK Surgeon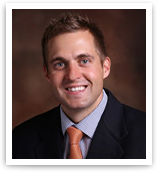 Ophthalmologist
Cataract and Glaucoma Surgeon
Tips for Maintaining Good Eye Health
You might regularly check your blood pressure or explore your skin for any unusual moles, but your eyes are often overlooked as an important area to care for on a consistent basis. Good eye health is critical during your entire lifetime, and especially as you age. Being able to see both near and far allows you to work, play and protect yourself every waking moment. When you visit St. George Eye Center, your vision is the top priority. Our professionals will not only do a thorough exam for your eyes, they can also help you understand which daily habits are either good or bad for your eye health. In fact, we can help you get started with some good habits right now!
Here are several tips from our St. George eye care professionals to keep your eyes healthy at every age.
Visit Your Eye Specialist
We can't emphasize enough how important regular eye care is. You can have eye problems that don't cause you any discomfort, but with a regular eye exam they can be identified and taken care of in the earliest stage. Our eye doctors in St. George, Utah offer the best care because they are highly trained and skilled in using the advanced technology of today's medical field. At each of our locations our eye specialists have many different tools that to test every aspect of your vision. A general practitioner, as skilled and as knowledgeable as they may be, does not usually have all of these specialized tools in their facility because he or she must concentrate on the body as a whole.
Ideally, you should visit the St. George Eye Center at least once a year. For ongoing vision problems, we may recommend multiple visits during the year to make sure your eyes are receiving the care and attention that they need. Declining vision is often a subtle process so looking at the eye several times a year gives our doctors a clear view of your medical requirements and the best plan of treatment.
Wear Sunglasses Outdoors
This is something the people often don't think about as a health consideration. You might spread an ample amount of sunscreen on your skin as you head out to an outdoor adventure, but that's not possible with your eyes. In fact, the eyes are even more vulnerable to the sun's harmful ultraviolet rays than the skin because they have sensitive tissues that are reflecting light, protecting your eyes, at all times. Sunglasses will easily shield your eyes from the sun's glare, and help prolong their healthy lifespan. You'll squint less with the sunglasses too. As a result, your eyes won't be as tired after a day in the sun. The muscles surrounding your eyes will be relaxed and healthy. Look for sunglasses that have UV protection. This feature is often noted on the product's specifications.
Insist on Protective Eyewear
The staff at Saint George Eye Center has treated many patients with work-related injuries. Objects may fly into people's eyes causing extensive injuries to their vision. Using protective eyewear is an easy and cost effective way to prevent injuries from these kinds of accidents. If you work or perform a hobby that involves tools or moving pieces, always wear protective eyewear. These glasses can be in the form of scientific lab goggles or construction-gear products. Check that your protective eyewear is designed specifically for the work you are doing. The lenses must be designed to deflect the material of the objects that could accidently hit your eyes. Often wearing only basic prescription glasses or a pair of sunglasses won't protect your eyes from harm. Welders, in particular, need to wear approved helmets that are designed specifically to protect their eyes from the intense glare of the welding torch. It only takes a few minutes to get the right eye protection. Even with one small accident, it can be the difference between losing or saving your eyesight.
Eat More Fruits and Vegetables
Your eyes require a lot of nutrition throughout your lifetime in order for the rods and cones to work properly. Every part of your eye needs blood, oxygen, vitamins and minerals as the tissues are constantly being refreshed. Many studies indicate that you can ward off vision decline by eating more fruits and vegetables. Colorful vegetables, in particular, are suggested by our St. George eye care specialists because of the concentrated nutrients. With one kale salad, you can increase your bodily nutrient levels and give your eyesight a boost. Good nutrition cannot solve an eyesight issue, however. (If you are having an eye problem, always contact your doctor right away.) Eating a healthy diet will help keep your eyes healthy and slow any developing problems. Preventive maintenance with ample nutrients is the key to long-term vision care.
Maintain a Healthy "Just Right" Weight
Your eyesight health is also dependent on your weight. If you have excess weight, your body must circulate blood to more tissues. Your eyes rely on blood and its critical components for proper functioning. By redirecting the blood to excess fat, your eyes receive less nutrients as a rule each day. Maintaining a healthy weight allows your cardiovascular system to work at its optimal levels.
Being too thin, in contrast, is also detrimental to your eyesight. Lack of muscle and fatty tissue within the face makes your eyes tire out more quickly than with ample support. In the end, your eyesight might fail because of poor muscle support and lack of nutrient levels.
Avoid Nicotine
We've all heard the research showing that tobacco smoking is bad for your lungs. But did you know that nicotine use is also bad for the eyes? As you smoke a cigarette, you're inhaling more than just nicotine. Carcinogens and other chemicals permeate every tissue in your body once they're distributed from the lungs into the bloodstream. Although you won't see an immediate eyesight change, those chemicals will slowly contribute to macular degeneration over several years. Smoking is essentially a slow process of poisoning your body. Because your eyes perform precision focusing and image recognition, the decline in this performance will be subtle. For example, you may notice one day that you are not be able to focus on faraway objects anymore. If you notice little changes like this in your vision, definitely make an appointment with your eye doctor in St. George, Utah.
Observe the 20-20-20 Rule
Most people have their eyes locked on a computer or mobile device most of the day. Because of this specialized focus, you should keep in mind that there's a healthy 20-20-20 rule. During a workday, look away from the computer screen every 20 minutes. Focus your eyes on an object at least 20 feet away. Keep your focus on that item for about 20 seconds. This focusing exercise allows you to rest your eye muscles and move them into a different position. You'll notice that your eyes won't feel as uncomfortable as before, and you can work or play on the computer for much longer time periods.
Take Care of Chronic Ailments
Chronic diseases, including diabetes and high blood pressure, can contribute to eyesight degeneration. If an ailment isn't being properly treated, the body reacts by focusing all of its resources on the disease. Nutrients, oxygen and minerals might be pulled from other tissues and redirected to fight the ailment, for example. Your eyesight is negatively affected at this point because the nutrients bound for the retina and cornea never make it there. Speak to your doctor about treating those chronic ailments. By taking a prescription or handling the disease in other ways, your bodily nutrients will naturally distribute across all of the tissues, including your eyes.
Perform Moderate Exercise
Scientific studies suggest that regular exercise can boost your eye health. When you exercise, the body releases endorphins. These hormones lift your spirits and focus on moving your blood around the body in an efficient manner. Oxygen permeates all of your tissues, which contributes to a healthy body. Your eyes also receive this treatment. It's not necessary to strenuously workout, either. Take a walk every day, and you can preserve your eyesight. Overall, the exercise contributes to a healthy weight, better nutrient distribution and reduced disease occurrences. When you reduce stress on your body with regular exercise, you create strong tissues that are free from any abnormalities.
Look up Your Family's Medical History
Your eyesight health is also dictated by your medical history. Genetics within your family might indicate that you could develop nearsightedness or other vision issues. If you know that most of your family wears prescription glasses, make a visit to your eye doctor a priority. Discuss your family's history with your doctor, so that they can devise a care strategy that might help your vision over time. You may need more vision tests throughout the years to watch for early-onset glaucoma, for instance. When you're honest about your family's history, your doctor can use this information to your advantage. Instead of overlooking a small eyesight anomaly, your St. George eye care professional can investigate it before it turns into a bigger problem.
Refrain From Rubbing Your Eyes
You might take care of your eyes each day, but some habits might be hindering your health over time. As a warm afternoon approaches, you might rub your eyes as you feel sleepiness washing over you. Ideally, keep your hands and fingers away from your eyes. Simply close them, and allow the eyes to rest for a minute or so. Rubbing your eyes places pressure on the tissues, which can aggravate any minor conditions. It's possible to cause bloodshot eyes with excessive rubbing. Although it might feel comforting, rubbing your eyes isn't a healthy maneuver at any age.
Regularly Clean or Replace Those Contacts
Although contacts are widely advertised as healthy solutions for poor eyesight, they can be detrimental to your health if they aren't properly used. It's important to clean the contacts daily with your doctor-approved solution. Don't sleep with your contacts in either. Contacts can hold a lot of germs if you wear them for more than a day at a time. As a result, these germs can damage your eyesight. Clean reusable contacts, and discard disposable products as directed by the manufacturer. Your eyes are vulnerable to damage when contacts are dirty or worn down.
Relying on your general practitioner for your yearly eye exams is the bare minimum care that you should accept for your vision. Ideally, you should combine this appointment with another one that incorporates an eye doctor in St. George, Utah. If any subtle vision issues are overlooked during a general physical, a St. George eye care expert can discover these concerns. Your eyesight may decline over the years, but this process can be significantly slowed down with the right professional by your side.